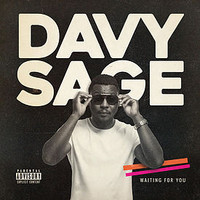 Davy Sage's "Waiting For You" is the sound of celebration. With lyrics poetic in nature the songs explore the concept of love and desire. Throughout it all what ties the collection together is a perfectly crafted pop sensibility. Stylistically these pieces vary from the overwhelming power of dance to delicate R&B ballads. By working with such a large swath of sound Davy Sage's music possesses a wide emotional range, from joyfulness to sadness.
Audio Listening Link: http://www.davysage.com/#!music/cee5
After the short "Intro" the collection gets truly started with the party anthem of "Waiting For You". Easily the highlight of the collection the song's insistent beatable and catchy melody leads the way. Stripping things down a bit is the casual late night sound of "All Night". With a steady beat the song possesses a kaleidoscopic approach with layer upon layer interacting beautifully as Davy Sage goes from an intimate ballad to downright inviting house music. Energetic to its very core is the Daft Punk house/funk hybrid of "Outta Control". Intimate in its approach the song serves as yet another highlight in the collection as its infectious riff works wonders, giving the song a lush luxurious sound. Opting for a more minimal sound is the dreamy work of "Say My Name". Closing the collection on a high note is the sleek and sophisticated "High" as the glistening keyboards add to the delicate nature of the piece.
"Waiting For You":
https://www.youtube.com/watch?v=c9sw8uAWfVY
"Waiting For You" shows off Davy Sage's mastery of his craft, effortlessly blending multiple genres into a satisfying whole.
By Beach Sloth