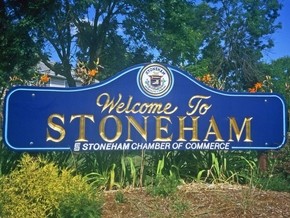 You know it's the beginning of summer in this area when The Stoneham Chamber of Commerce kicks off the annual Stoneham Chamber of Commerce Summer Concert Series! This year the Series begins on Thursday, June 23 and will continue through to August 4. The first concert evening will feature the band The Sax Factory, which will be preceded first at 6:30 with a children's patriotic parade Chamber member Hallmark Health System's North Suburban Child & Family Resource Network will coordinate and lead the parade on its course through the Common. Then at 6:45, the Stoneham Chamber of Concert scholarship award presentation. This year the Chamber is proud to award three high school seniors with its Kathleen E. Bray, John F. Mahoney, Jr. and Chamber Business scholarships. Recipients are Stoneham High School Senior Ashley Doherty, Essex Technical High School Senior Sarah Cantwell, and Mount Alvernia High School Senior Maggie Pendenza.
The nine-piece Sax Factory is comprised of top jazz musicians from Northern Massachusetts and Southern New Hampshire. The instrumentation consists of soprano, alto, tenor, and baritone saxophones with a rhythm section of guitar, bass, drums, and keyboard. The sound is lush, smooth, laid-back jazz with just the right amount of swing to keep it lively, fun, and appealing to all ages! From on-the-edge-of-the-seat, up-tempo, swinging bop-oriented jazz to traditional jazz standards, the Sax Factory will offer a wonderful range of jazz styles. For more information on the Sax Factory, please visit www.thejazzfactory.biz/saxfactory.html
The Stoneham Chamber of Commerce Summer Concert Series' programs will again feature a special coupon to enter a drawing from the Stoneham Theatre and like last year, the Stoneham Theatre is generously giving away two tickets to a Season 16 performance for EACH night of the Concert Series! So every Thursday, a winner will be drawn rather than just on the last night of the Series. Stop by the Concert for more details and to enter.
The 2016 Summer Concert Series is corporate sponsored by The Arbors Assisted Living Communities, Redstone Shopping Center, Salem Five Charitable Foundation, and StonehamBank. Proud Business sponsors are Anderson Bryant Funeral Home, The Appian Club/Italian Heritage, Barile Family Funeral Home, Catalano Creative, C&S Capital Properties, Gamit Signs, Life Care Center of Stoneham, Stoneham Independent, Stoneham Theatre, Stoneham TV and Town of Stoneham.
The lineup for the 2016 season is as follows:
June 23: The Sax Factory [Jazz & Swing] June 30: 4ever Fab [Beatles tribute band] PLUS: CLASSIC CAR NIGHT
July 7: NO CONCERT
July 14: Stoneham Theatre Presents Broadway Cabaret Night [featuring Stoneham Theatre and Boston theatre industry performers] July 21: Sea Breeze [Italian and standards] July 28: Navy Band Northeast Protocol Jazz Combo – PLUS: SPECIAL NIGHT TO HONOR VETERANS
August 4: Walkin' The Line [Country Top 40] – PLUS: CLASSIC CAR NIGHT