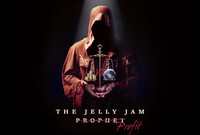 The Jelly Jam is made up of Ty Tabor (King's X) on vocals, keys, and guitar, John Myung (Dream Theatre) on bass, and Rod Morgenstein (Winger, Dixie Dregs) on drums. Ty either wrote or collaborated on the songs.
Care is a medium paced metal influenced song. Stain On The Sun is a ballad paced song with a 70's Brit vibe to it. Water has a George Martin/Beatle's vibe going on. Perfect Lines (Flyin') has some interesting musical curve balls in it. Mr. Man is a slower song with a nice groove. Memphis picks up the pace a bit concentrating on the guitar. Heaven is a melodic ballad. Permanent Hold is a slower instrumental song. Fallen and Strong Belief are nice ballads. Ghost Town
You can definitely hear the influences of their other bands in this. You can also feel the metal influences, as well as the best of the 70's British Invasion. There are certainly a lot of mixing effects used on this release. For the most part, this release concentrates on slow ballads, with some picking up the pace. If you're a fan of the prior music by these guys, you'll definitely like this.
By R.M. Engelman