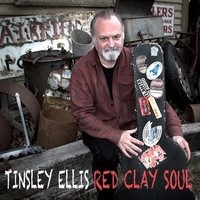 Tinsley is another of the well traveled bluesmen. He's shared the stage with numerous blues legends. This is his 19th release to accompany yet another tour.
All I Think About is a moderate shuffle paced song, about himself. Givin' you Up is a nice cut that has a certain Motown feel. Don't Cut It is an up tempo relating to love. Callin' also has a Motown feel, but with some nice added Clapton styled licks. Anything But Go is a really nice piece that would have been a dance tune in the 60's. Hungry Woman Blues is a straight up blues ballad. Circuit Rider sticks to the blues format. Party Of One is a slow melodic slice of blues. Estero Noche is a nice Latin inspired instrumental piece. The Bottle, The Book, or The Gun is a self explanatory blues thing.
What's refreshing about this release, is that Tinsley also borrows on the pre-Motown soul music sound of the 50's-60's. Instead of strictly emulating early blues artists (as many do), he reflects on true soul music relating to blues. Oh, guess what background the soul/Motown musicians came from? You would be correct if you answered, it was the blues. No, I'm not going to ask where rock came from. It is the same answer anyway!
https://www.amazon.com/Red-Clay-Soul-Tinsley-Ellis/dp/B00000DV4Z
By R.M. Engelman