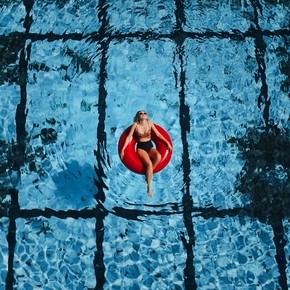 Soleima, real name Sarah Mariegaard (formerly of Danish hip-hop outfit Flødeklinikken) is making an early claim for song of the summer here.
Luxurious synth arrangements and some majestic intrumental touches partner up seamlessly with Soleima's distinctive, glittering vocal tone, as waves of blissed-out, summer-pop vibes spill over into all areas. It's a song which hits you right from the off, with its joyous, summery production – courtesy of Vera (Liss, MØ etc) and Luke – sitting perfectly alongside Mariegaard's intriguing vocal delivery. A sure-fire summer hit in the making.
Previously living in Tanzania for a portion of her life, some of the vocal melody structures could arguably be inspired by the Sukumaland song tradition, the specific region in Tanzania where Sarah lived.