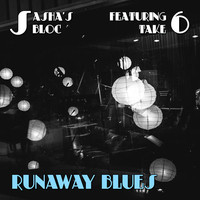 Sasha's Bloc Band is Alex Gershmann and features guest vocalists, Jane Monheit and Alvin Chea. Gershmann brings the airy feel of big band and jazz with a splash of R&B that puts you right in the groove. This single, Runaway Blues is a perfect blend that accomplishes what this band set out to do, make you lose yourself in the art of music.
Stream Link:
http://mileshighproductions.com/images/tracks/sashas_bloc/runaway_blues/images/tracks/Sasha's%20Bloc%20-%20Runaway%20Blues.mp3
It starts with dreamy vocals that sounds like a church choir. Then the lead singer smoothly transitions in like James Brown sliding on stage to his mic. This has all the workings needed to make a jazz lover get lost in the moment. It slowly builds in passion and tempo, coming to a climatic end; leaving the listeners smiling and satisfied.
The music wraps around the mood like a blanket. It soars with mystical movements, smooth and purposeful. The orchestration feels big, but has a soft quality, so fitting to the voice that has a gut wrenching soul that comes straight from the heart.
Wow, Sasha's Bloc won me with one song, Runaway Blues can run my way, any day of the week, it is relaxing with powerful conviction. You sing it my friend, I'm buying every emotion you're throwing at me. This is a must have CD. Get it, listen and enjoy life, there is no other way to feel after one listen. Free yourself and get lost in the musical dream land.
I rate this 5 out of 5
http://sashasbloc.com
http://facebook.com/sashasbloc
Rebecca Hosking – hoskingrebecca@gmail.com