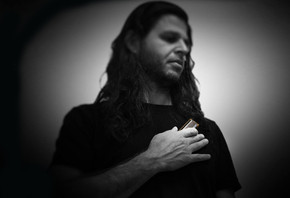 The Naveblues is a retro journey to the good old classic rock blues music, with a modern twist and interpretation. Fronted by the unmistakable talents of vocalist/harmonica player Nave Pundik, the group has an international orientation and a unique flavor, combining instrumental with lyrical, rock with indie and some legendary Blues covers. Today we're excited to bring you two clips that are perfect introduction, "Sexy Kiss" and "The Bird/Ghost Collector."
The first video we're offering up is the sultry, fiendishly delightful clip for "Sexy Kiss." It begins with an individual approaching a door with the name "Marion Jacobs" on the door. A mystic box is left with the badge reading "Marion Walter Jacobs – Little Walter." Inside the wooden box is a lone harmonica. For those not in the know, Little Walter remains one of the most beloved harmonica players whose playing and approach changed the way this instrument is played. He was inducted into The Rock and Roll Hall of Fame in 2008, and his legend lives on in "Sexy Kiss.
The lucky recipient of the box is a young Norwegian girl in her simple flat. Cue The Naveblues, who provide the soundtrack for her transformation to a dual role of a couple and their feverish courtship that involves choreography, rock and blues, and some very mood-heavy lighting. Is this all a dream or has the power of the music transcended time and space once again?
For the follow up clip, The Naveblues give us "The Bird/Ghost Collector," an instrumental video that takes the viewer out of the city and into the gorgeous Norwegian countryside. Once again relying on the beautiful choreography and fluidity of the female lead. In this clip, she plays the part of a beautiful feathered bird floating across the screen. From afar she hears the enticing sounds of Nave as he plays the part of The Collector, who is seeking out one last piece to his collection. Though she tries to resist, ultimately the sounds draw her closer, like a musical calling. Eventually her free spirit becomes one with the harmonica, which is then placed safely away inside of a secure box.