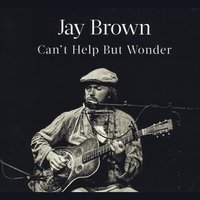 Sung straight from the heart, Jay Brown's "Can't Help But Wonder Disc 1" harkens back to the proud tradition of the solitary singer-songwriter. With a sound that teems with life, Jay Brown's work feels completely honest. Lyrics guide these rustic piece all the way through, with the just right mixture of storytelling and poetry. Arrangements vary running from the singular folk approach to a laid-back classic rock vibe. Tying these all together is the crystal clarity courtesy of Jay Brown's inviting vocals.
"Troublesome Times" opens the album on a strong note, with the lovely oddly hopeful delivery done right. Reassuring to its very core the song sprawl out with a sense of true loveliness. Presenting his wry sense of humor is the playful sound of "Ain't Much Changed". Easily the highlight of the album Jay Brown provides an incredibly catchy melody with a chorus that is positively infectious. Peppered with pop culture references the song is a pure undeniable joy. Stripping things down to the essentials is the elegant sound of "Eyes Of Love" with the nimble guitar working wonders. "The Radio These Days" is an ode to the ridiculousness of how the radio plays the same songs over and over again. A whispered hush rules over the gentle tender "Not Made Of Stone" which unfurls ever so gradually. Closing the album off on a energetic note is the loose and freewheeling "Dance Till We Drop".
https://www.amazon.com/Cant-Help-But-Wonder-Brown/dp/B01CSTFHY4
Jay Brown's "Can't Help But Wonder Disc 1" is the sound of a small intimate celebration with good company.
By Beach Sloth