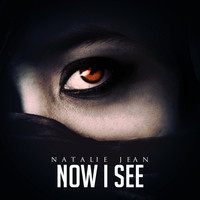 Sly and seductive, Natalie Jean's "Now I See" offers a luxurious inviting sound, one perfect for the summer. With a dubstep affect to it the piece feels ever so clear. At times reminiscent of James Blake's careful approach to song craft the piece positively shimmers in tone. Downright glorious the build of the song results in brilliant bold color. Melodically rich the song evolves ever so satisfyingly. Guiding the song forward is Natalie Jean's soothing vocals and thoughtful lyricism.
Things start off with a slight whisper of sound. From there Natalie Jean's voice enters the fray, at first quite quiet. Slight plucks of sound introduce the piece alongside glimmering keys. With each additional flourish of sound the piece expands and grows in size. A gentle melody serves as the anchor of the song as the lyrics explore exactly how a relationship can be quite difficult to fully establish, with misgivings and misconstrued intentions on both sides. Rhythms are playful in nature exploring elements of dub and dance in equal measure. Elements start to swirl around with the tiniest details offering a great deal of insight. By keeping the song so minimal in nature the lush tones that weave their way in and out of the mix feel real. Towards the end of the song everything comes together into a whirlwind of sound.
By balancing all of these together Natalie Jean creates a pristine perfect piece of pop, the sort of song that lingers long after its over.
http://www.natalie-jean.com
https://www.facebook.com/NatalieJeanObsession
By Beachsloth