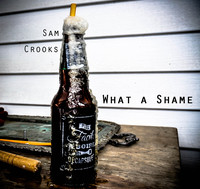 Cool and casual, Sam Crooks creates an inviting deprecating piece of work on "What a Shame EP". Displaying a true knack for storytelling the songs move on ever so leisurely helping to further emphasize the overall introspective tenor of the sound. With a sound reminiscent of the Sea and Cake's mellow jazz tinged airy pop, Sam Crooks songs linger long after they are over. Arrangements are impeccable with every detail positively shining through. Melodies feel as if they drift into the air, with Sam Crooks providing the perfect kind of vocals to rest easily upon these glistening pieces.
Stream:
https://soundcloud.com/samuel-crooks-864706416/sets/what-a-shame-ep
Opening up with the title track Sam Crooks shows off a wry sense of humor. The playful nature of the song is immediately apparent as the song swings by luxuriously. Dreamy in nature is the lovely work of "Secret, I know" where the tasteful arrangement comes into bloom ever so gracefully. By far "Secret, I know" is the highlight of the collection with a late-night misty eyed vibe to it. A little bit of electricity touches upon the angular sound of "Meet Me At My Gate". Urbane in sound the sparkling B3 Hammond Organ seems right at home. Ending things on an ambitious note is the gradual build up of "Turn In The Sun". Steady and persistent the piece grows ever larger with each cycle, as the rhythm grows in a quiet calm power.
Stylish to a tee and tapping into a timeless sound, Sam Crooks creates an unforgettable EP with "What a Shame".
Twitter: @SamCrooksMusic
Facebook: https://www.facebook.com/Sam-Crooks-Music-1503278283229148/
Posted by Beach Sloth