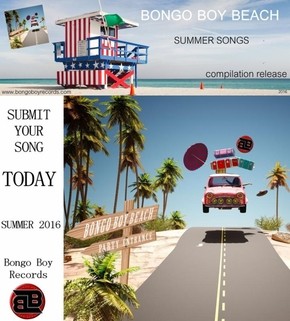 Distribution PLUS Promotions for Your Summer Song with Bongo Boy Records. Hong Kong, Macau, Taiwan, Malaysia, Japan, mainland China , Africa, and More……..
Come join us on Bongo Boy Beach. Be in one of The Largest and Hottest Music Market Today Asia and More. PLUS Distributed on iTunes, CDBaby, Amazon and Others in World. Non Exclusive.
Pull Out Your Summer Fun recordings Bongo Boy Records is welcoming you to A Summer Fun compilation album. This digital release comes with Worldwide digital distribution including the hottest market today Asia and Africa. This deal includes Music Reviews published online in magazine and or in print. Press releases, Email blasts to industry and music fans. Bongo Boy Records also includes a Radio Campaign there will be physical cds made for promoting this release to radio and reviewers. Free Swag Bag! And to top it all a TV spot which will broadcast on 54 TV channels in the USA with 11 major cable companies and Go Indie TV Roku and Dish Network.
Free Submission, when accepted DIY sponsorship applies. Details at the official web page: https://bongoboyrecords.com/bongo-boy-beach/
Submit@bongoboyrecords.com or call Bongo Boy Records office at (908) 455-1576