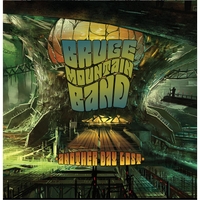 Bruce Mountain Band's "Another Day Lost" offers a modern update of classic psychedelic rock. Their adherence to the sound is admirable: from the fuzzed out guitars to the endless heavy grooves, they keep on driving forward. Akin to similarly structured latter-day driving psychedelic rockers like Wooden Shjips, Bruce Mountain Band is a force of nature. From the crazed guitar work to the steady persistent beat the approach is one of grandeur, of giant spaces and sounds. Great energy comes from these pieces as they interact to emerge as a fully realized album, one that adheres to an unspoken narrative of sorts.
Audio:
https://soundcloud.com/brucemountainband/sets/another-day-lost
"Shine On" starts things off on a high note with a funky keyboard introducing the band's endless expansive approach. A slow steady build results on the dreamy work of "Thank You", by far the highlight of the collection. Showing off their steady yet consistent guitar work, the song appears to be floating away at times, with the languid tempos working just right. Amps are turned down on the rather intimate sound of "Everything I Want". Aptly named "FireBall" feels positively explosive as they blast through the run time. Heavy in nature is the deep thick nature of "Get Up". Ending things on a mellow note is the atmospheric, folksy "Long Way Home" whose communal sensibility feels like the perfect kind of send off.
"Another Day Lost" shows off Bruce Mountain Band's impressive chops, with songs that sound like true classics.
http://www.brucemountainband.com/
http://www.cdbaby.com/cd/brucemountainband
Posted by Beach Sloth