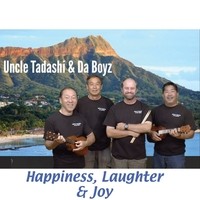 Cheerful to its very core, "Happiness, Laughter & Joy" shows Uncle Tadashi & Da Boyz tapping into a sense of optimism that comes only after such a long journey. The sense of purpose that home can bring is one that cannot be replicated easily. By growing up one gains perspective on what truly made their home great, the things that they took for granted, the things they missed, and ultimately what might bring them back.
Uncle Tadashi & Da Boyz – "Happiness, Laughter & Joy"
https://www.youtube.com/watch?v=yhxvGhXmAzI
A short introduction presents the return home. Upon the completion of this short message the song settles into its soothing, relaxing groove. The loose percussion is absolute the right touch. Small little guitar flourishes punctuate the piece emphasizing the happy moments of returning home. When the chorus comes into view the piece truly blooms. Throughout the song Uncle Tadashi & Da Boyz let the piece build up ever so gently, as the song grows slightly larger. Lyrics focus on the overwork that tends to permeate a lot of the world, as they opt for something a little more sustainable and pleasant. For the finale of the song they let the guitar work weave its way in and out of the mix resulting in a truly celebratory sense of purpose.
Over the course of "Happiness, Laughter & Joy" Uncle Tadashi & Da Boyz use the feeling of home to define an entire emotion, of more than nostalgia, but of comfort and acceptance for there really is no place like home.
Posted by Beach Sloth