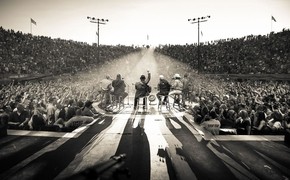 Before you hit the road and spread your music across the country or even overseas, you want to plan your tour in a way that will make it easier to manage. You want to save money and look at the actual cost of transportation to book your venues. Also, create a route so that you know how you plan to visit different regions. Organizing a tour in a manageable way takes time, but better preparation will make the tour more enjoyable.
Make Sure You Have a Minimum of One Album or EP
You don't want to tour when your band only knows a couple songs as that can lead to a lackluster performance. You have to keep in mind that you need material long enough to play for roughly a 45-minute show, and in some cases, you also want to have one or two encores ready. If you do not have enough material, it can make the entire thing seem cheap and having an album or EP means that you can tour without dreading how you will pass the 45 minutes on stage.
Save up for a Few Months
Before you start touring, you want to make sure that you have enough money to pay for your food, and you will also need money for gas and upkeep of the vehicle. For example, you will need brake fluids, transmission and oil. In general, you want to go with more money than what you intend to use.
Plan a Route That Makes Sense
Most importantly, you want to plan a route that will make sense. In other words, you want to do your best to run in a full circle. For example, you don't want to have to double back 150 miles in a day because that can lower the profits. Try to book shows one day apart and travel so that all your band members will be available. Also, keep in mind that business-class flights, like those available at WayToFly, will be different from company to company. Having a good game plan can help save precious money and time during the tour season.
Inventory of What's Needed
Because you pack your vehicle over and over, the chances of items going missing become pretty high, especially when you factor in late-night exhaustion and the darkness of night clubs. Also, the beer before the set can make it easy to lose stuff. Instead, keep a copy of inventory and use a checklist before leaving each town.
Touring can be a great way to party with your friends and have a great time. In a way, being in a band becomes like another family. A band also becomes a rewarding experience because you can travel and see a country while enjoying yourself in the process through playing.