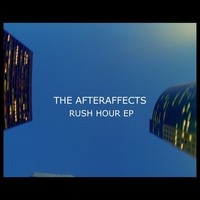 Stylish to its very core, the AfterAffects create a compelling piece of work with the kaleidoscopic color of the "Rush Hour EP". The range of sounds varies coming from found sounds to jazz to house, with electro tying all of it together. Everything feels positively lush in nature from the hard-hitting percussion to the the nimble synthesizer chords, all of which build off of each other. Lyrically the songs are a balance of affection and dominance, unable to be effectively pigeonholed into either category. Rather the pieces tap into a late-night, post-party atmosphere.
No track does this better than the collection's highlight "What You Do To Me". A driving rhythm guides the song forward as it at times harks back to LFO's debut album with icy synthesizer work and an insistence on a stripped down minimal approach. Downright dreamy in nature the piece is that possesses a strong, unforgettable that lingers long after its over. With a funky sensibility is the long-slung groove of "She Takes Pictures (Of Herself)". The sound itself is quite glamorous, with the ebb and flow of the synthesizer sweeps done just right. Offered as a soothing counterpoint to the more driving, heavy work is the light and airy "Sunshine Sometimes" whose carefree nature is emphasized by the shimmering keyboards.
The AfterAffects show on their "Rush Hour EP" just how good and soulful house music can be.
http://www.theafteraffects.co.uk/
Posted by Beach Sloth