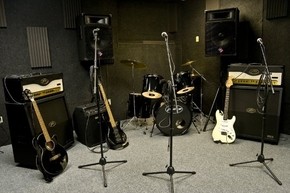 When you play in a band, whether you just jam once in awhile or you plan to play out at local or national shows, you need a space to do that jamming and get that practice in. Bands don't get to sound tight just by sitting in their own living rooms strumming their guitars and banging on those drums. You need to play together in order to make songs come together.
Sometimes it can be hard to find a place to play. If one of your members owns their own home it can be convenient, as long as their spouse or significant other is fine with it and they don't have any small children. If you don't have this convenience, here are some tips.
Rent A Property
Depending on where you live, renting a warehouse or an empty storefront can be a great way to get a space. Cost can be a deal breaker depending on your band member's day jobs, but splitting the monthly costs between four or five people can make it easier.
You'll want to make sure that you let the landlord know your purpose of this rental. They may have no issue, or they may be worried about neighbors or sound ordinances. It's better to be honest up front instead of having to pay off a lease for a place you can't practice at.
Rent An Auditorium
If you don't practice on a regular basis, renting an auditorium could be a good way to get in some practice, and even have the right sound. But, if you are practicing on a regular basis this could get more costly, and you have to work around the other business the auditorium has going on.
Find Another Band To Share Space With
You could talk to other bands in the area and see if you can split rent with them on their practice space and practice on their off nights. This can be one of the cheapest ways to get a jam space, and ensures you get a place that is OK to play and rock out.
The downfall is that you will have to work around someone else's schedule. And, you may need to work around their mess as well.
Look For An Artist Space
Many larger cities are turning old buildings and warehouses into artist spaces and lofts. This gives bands, artists, and even writers a place to rent to practice their craft. This is a space that is made just for artists, and bands, and you'll have your own spot.
You can also enjoy the art of others, and artists will enjoy your music while you paint and sculpt. So, now that you know how to find a place to practice, maybe it's time to get that band together.