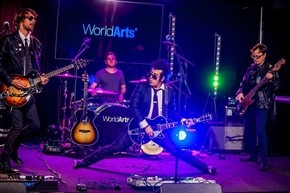 Falling Doves are ecstatic to announce their sophomore album, Doves of War, which will be released April UK & July 4th via Universal UK/RMN Records. Sharing their edgy rock roots with their pop infused melodies The Falling Doves are ready to show us what original rock n roll is all about.
Born from Hollywood's jaded streets of Sunset , Christopher Leyva, Mike Dorsey, Clint Feddersen, and Kyle Mueller make up the Falling Doves who all share a passion for reviving classic rock with their own twist of today's pop music.
In the past two years the Falling Doves have taken their music on a trip throughout the west coast. They've played to ever-increasing crowds, bigger and louder each time; opening for acts such as Gilby Clark, (Guns and Roses) Echo & The Bunnymen, Scott Russo (Unwritten Law), Sidhharta, Story of the Year and Alien Ant Farm. Since the band has managed to take over the San Diego, Orange County and Los Angeles and the Las Vegas music scene.