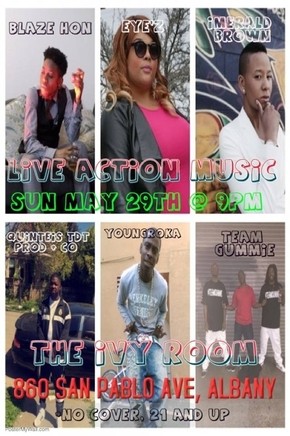 Live Action Music Hosted by Eye'z @ at Ivy Room. Ivy Room is an historic, neighborhood bar in Albany, CA. The bar dates back to the early 1940's. Its most beloved owner was Dottie MacBeath who managed the Ivy in the 1990's, in addition to a few other bars up and down San Pablo. The current owners, Summer Gerbing and Lani Torres, who have both worked extensively in San Francisco establishments, took over in 2016.
Sunday May 29th from 9pm – 11pm
The Ivy Room
860 San Pablo Ave
Albany, CA
http://www.ivyroom.com/
This will be a hip hop/rap event with prizes and giveaways with Blaze Hon, Imerald Brown, YoungGroka, Team Gummie, plus a very special guest!
TheLovelyEyez.com – "A Diamond In The Rough, A Diamond In The Eye, Its The Crazy One And I'm Not Left Eye"!