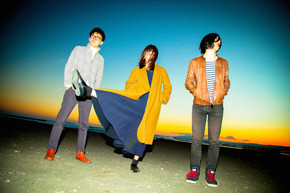 At last, we return with a new installment of TOKYO CALLING. We have taken on some additional staff to bring you more regular content because music in Japan is too much for only a few!
Guest writer: Jiselle Alves
MASS OF THE FERMENTING DREGS is back and this time, they're back with a new sound and a whole new lineup!
Fronted by lead vocalist Natsuko Miyamoto, the band made their official debut in 2002. Their first self-titled E.P was released on January 16th 2008 under AVOCADO Records. The band gained notoriety not only in Japan but in Canada as well for their high-energy stage presence, melodic pop vocals, and tightly arranged guitar performances.
They went on to release two follow-up albums, "World is Yours" and "Zero Comma, Colorful World" however on September 1st 2012, Miyamoto announced the band will end all activities and will cease to exist.
Fast-forward to December 2015 when a mysterious update hinting at the band's return was posted on their official website. Along with Miyamoto, the band includes drummer Isao Yoshino and guitarist Naoya Ogura who made their official comeback on December 29th at the Shimokitazawa GARAGE in Tokyo.
Although the trio has yet to release any new music, they will be gearing up to perform live at the "Next Music from Tokyo vol 8" tour in Canada. The tour will kick off on May 20th at the Soybomb in Toronto and will conclude on May 25th at the Baltimore Cabaret in Vancouver.
Video link: https://www.youtube.com/watch?v=VyvzChVaCzc
Website: http://www.motfd.com/

Interested in hearing some fresh Japanese rock and pop, the sort you might not hear otherwise? Head over to Joint One Radio Network and listen to WHETHER BREAK, a show dedicated to bringing you a selection of unsigned and smaller label bands music. Both newest and previous episodes can be accessed via the music player. Newest episode only on the host site.
Music player: http://www.jointone.com
Host site: http://j1japan.com/listen
Facebook: https://www.facebook.com/whetherbreak/
And join us (Tokyo Calling) on social media at:
Facebook: https://www.facebook.com/Tokyo-Calling-655078144525433
intro/outro: Apryl Peredo
article: guest writer Jiselle Alves