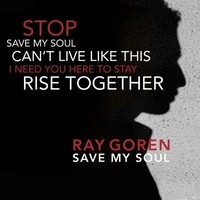 Ray Goren's "Save My Soul" taps into the heart and soul of the blues. By tapping into rock's origins Ray Goren creates the perfect kind of sound one that updates its beginnings in the best most respectful kind of way. His guitar chops are impressive as is his backing band that seems to fit his many moods, from the extraordinary and elegant open to the introspective closer.
Audio:
https://soundcloud.com/raygorenofficial/sets/ray-goren-save-my-soul
Diving right into the thick of it is the bombastic celebratory sound of "Stop". The rhythms are physical in nature reveling in power, helping to further emphasize the clear playful lyrics. Lyrics focus on trying to stop someone's wicked ways, of how tempting it can be to delve into that kind of bad behavior. "Save My Soul" starts things off with a sweaty dirge. Pace is pitch perfect as Ray Goren lets the song grow in power. By opting for this kind of approach Ray Goren is able to create a colossal downright extraordinary sort of sound. A dreamy otherworldly atmosphere rules over the tender ballad of "Can't Live". Little flourishes go a long way as the song's power comes from subtle changes. Easily the highlight is the funky infinitely catchy "I Need You Here To Stay". A tight rhythm helps guide the song forward, as does the spellbinding guitar soloing. Smooth mellow melodies end the collection off on a high with the optimistic hopeful "Rise Together".
Forging a sense of community Ray Goren's "Save My Soul" is simply stunning.
https://www.raygoren.com
https://facebook.com/Fraygorenofficial
Posted by Beach Sloth