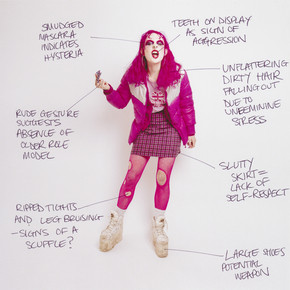 The fiercest new talent to emerge from the UK this year, London's newest rising star-cum-hell raiser, GIRLI releases the video for her brand new track 'Girls Get Angry Too', available to buy now and impacting on PMR Records this 27th May.
Premiering on FACT, the psychotic, 'in your face' video is the perfect fit for the Ragz Originale (Skepta, Dej Loaf) produced anthem, that sees the artist take on both the role of pop princess and modern day samurai, dedicated to the ultimate samurai princesses, Kill Bill's The Bride & O-Ren Ishii.
Speaking on the video, GIRLI says "the inspiration behind the video was to use demented dolls as the many different characters that I rap about in Girls Get Angry Too. On a deeper level, the video makes a comment on how women are categorised and boxed up and sold idealised versions of themselves or you could just say it's about Barbie dols. Either way, don't box up angry girls. Seriously. Just don't. ;) ".