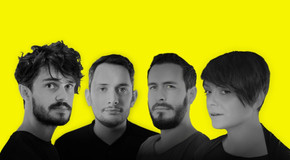 Just twelve months after the four-piece burst onto the UK music scene with their acclaimed debut single Dismount, neon-lit geometric pop purveyors Joy Atlas are set to release their third single Drop Your Sword, their most vital and distinctive song to date.
This near three-minute delight displays a smart and evolving sound that is brimming with imagination. Joy Atlas' colourful, hyper-musical palette encircles Beccy Owen's elastic voice, this time finding it in a more fragile temper as it soars high above an angular hybrid of intricate bass lines, skeletal beats and beaming synths that all swoop and loop into a dense, harmonic crescendo. Drop Your Sword further demonstrates Joy Atlas as a textured, enigmatic band who have already been compared to the likes of Bjork, Field Music and Goldfrapp.
Joy Atlas is acclaimed singer/songwriter Beccy Owen, keyboard/synth player Adam Kent, bassist Ian 'Dodge' Paterson and drummer Ged Robinson.