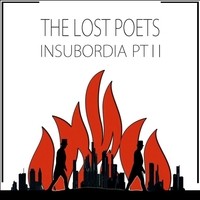 Full of twisted fury, The Lost Poets create a dazzling dark world on "Insubordia Pt. II". A sense of rebelliousness permeates the album courtesy of David Rosengren's powerful vocals and the commanding physicality of Petter Ossian Strömberg's bass lines. By structuring the album as a journey the songs gain greater meaning. The blues are carefully embedded deep within each and every song, serving as the album's soul. Riffs positively crush everything in their way, showing off their impressive chops. Over the course of the album The Lost Poets recall the best of early Stone Temple Pilots and Queens of the Stone Age.
Share the new video for lead single "Danny Electro" here:
https://www.youtube.com/watch?v=WIX2z6hcfNs
Throwing themselves deep into the endless sea of sound is the colossal dominating sound of "Insubordia Pt. II". A slower lumbering rhythm takes over on the moody "Danny Electro". David Rosengren's voice is particularly fine on this track as his lyrics feel weighed down by the world. Easily the highlight of the album is the paranoid nightmare of "In A Wasteland". Here even the smallest details have great impact, like the creepy melody that weaves in and out of the mix. By "In Filth" The Lost Poets slow things down to a dirge as the song's twisted tortured sound is absolutely enthralling. Towards the end of the album The Lost Poets turn down the volume and retreat to the shadows of sound, letting the sound grow ever more delicate such as on the intimate "1000 MPH". Bringing the album to a close is the tense "Monomyth".
"Insubordia Pt. II" shows that The Lost Poets are able to effortlessly blend the old with the new, creating a beast of an album.
http://www.thelostpoetsmusic.com/
Posted by Beach Sloth