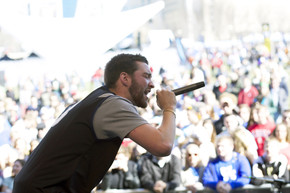 Nowadays it's not hard to find young aspiring artists working hard to get their name out there. One such artist is Kid Quill who is no exception. Mitch "Kid Quill" Brown knew that from a very young age that he yearned to express himself through music. But his first love was soccer where he ironically found the music itch. While his parents drove him to soccer practice or games the radio or CD's were always blaring.
Mitch would always play Hip Hop or turn the dial looking for a station that played that genre. He was influenced by acts like Blink 182, Bowling for Soup, New Found Glory and Green Day. The first CD he picked up was J-Kwon's Hood Hop's and he was hooked. Even though he gravitated to Hip Hop, Mitch is a bit eclectic as he also enjoys music from the 60's and 70's.
His talent was hidden for a while until one of his friends videotaped him rapping on the team bus. The friend posted the video on YouTube and Mitch received some viral attention. This only prompted his friends to push him to put out a mixtape. Mitch took their advice and released "First Cut" in February, 2013. At this time of his life he was attending DePauw University were he went to play for the soccer team. But his musical journey was about to take an exciting turn.
Because of the attention that "First Cut" received he ended up sharing the stage with acts like Jake Miller, Mike Stud, SoMo, and others.
"First off, Jake Miller and the others are great artists. I've been lucky because all of my support roles have been with really genuine and professional people. I make a point of arriving early and watching how the headliners prepare their stage and sound. The things I do now as a headliner are a combination of what I have learned from all of those guys."
Kid Quill would start planting flags at different venues. He performed at the March Madness Music Festival for the NCAA Final Four in Indianapolis. It turned out to be a large crowd who specifically came to hear him perform with his DJ (Brad Sivells). Mitch then played a headline set at Spalding University in Louisville were he was able to engage the crowd who sang the choruses. A real special show for him and his team.
Many wonder how he came up with his moniker Kid Quill. Actually his middle name is Quilleon. While he was in High School he was writing lyrics and posting them. His parents thought it would be best to go under a different name. His father suggested Kid Quill and being an 18 year old he thought it was cool. Now he catches fans with Kid Quill tattoos and owes it all to his parents.
It is also amazing how he managed to juggle soccer, performing and his studies all at once. But the time came when his performances were cutting into his soccer time. He had to cut soccer from his schedule and focus on his music. His Coach, Brad Hauter, not only understood but is very supportive. The extra time enabled him to release his first studio album "Ear to Ear" in 2014.
The album eventually charted as high as #34 nationally on the iTunes Hip Hop chart. It was a great achievement and Mitch hopes to build on that success. He is continuing to perform at various venues while attending DePauw University. But he is looking to devote 100% of his attention after graduating to a career as a recording artist. To get a taste of his music visit – http://www.kidquill.com/home.html
by Nick Christophers