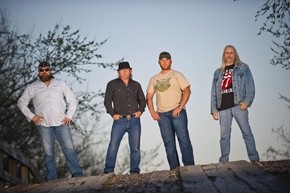 Many artists are quick to champion their roots in major metropolitan areas like NYC, LA, Nashville, and so on. These cities are seen as hotbeds of what's modern and cutting edge, where the next trend is around the corner. Jacksonville, Missouri, home to Rock Road Rebels, is not one of those towns. With a 2010 census population of 151, it's as small as small town gets. It's true heartland, proudly located off the beaten path.
It's also the perfect home for a band that celebrates their love of 70's Southern Rock and Blues. Rock Road Rebels doesn't need to study fleeting trends to define their sound because they're expertly versed in decades of rock and roll before them. On their new single, "Freedom In Our Eyes," they wear not just their love of classic rock, but also their undying patriotism on their sleeve.
With impeccable individual execution the guys of 3R (Shane Newbrough on vocals, Michael "Goz" Goslin on bass, Ryan Conners on guitar, and Brock Manly on drums), launch into a thunderous declaration of their love of country. They also make it known that they're ready to go toe to toe with anyone who might consider infringement on all of 'our' or 'their' Constitutional rights.
The video begins with the band's bus pulling up in front of the towering World War 1 monument, the Liberty Memorial, in downtown Kansas City. The words inscribed in the base of the monument read "IN HONOR OF THOSE WHO SERVED IN THE WORLD WAR IN DEFENSE OF LIBERTY AND OUR COUNTRY." That phrase perfectly encapsulates the spirit of "Freedom In Our Eyes," knowing the lifestyle we are all free to live in the USA, even our rights to agree/disagree/dissent, were all earned by the sacrifice of millions before us.
Channeling the energy of their time at the monument, the band erupts into a ferocious performance for the cameras, taking turns to each showcase their incredible chops for the audience. We also get the chance to see them laying down tracks in the studio, where their chemistry and camaraderie is clearly as organic and homegrown as Main Street through downtown Jacksonville, Missouri.