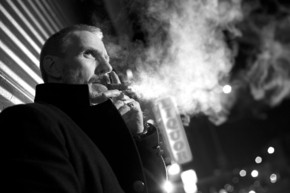 RJ Comer returns to his frequent themes of redemption and survival in his second release, "The Moon Ain't Fallen on Me Yet" off of his recent six-song EP Nightly Suicide. The captivating single will be available April 18th with an accompanying music video that will be released April 15th via Growling Moon Records.
While most people find inspiration and romance in sunrises and sunsets, like a lone wolf RJ Comer has long looked to the moon for comfort when he was down. "The Moon Ain't Fallen on Me Yet" depicts RJ's nightlife—an allegory for his darkest and most lonely thoughts and experiences, but also—ironically—his sanctuary. The moon symbolizes hope, and is RJ's wry and subtle allusion to John 1:5: "The light shines in the darkness, yet the darkness did not overcome it."
Showcasing psychedelic imagery along with RJ's shadowy, lyrical content, the music video authentically portrays the brooding singer-songwriter as he lures listeners with every line. Through his metaphorical and cryptic songwriting, Comer carefully peels back the layers of his dark side to reveal the light he seeks, and most often finds.