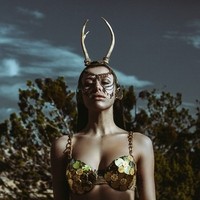 Dark and elegant, Ramsey's "Pay" is a perfectly paced piece of introspective pop. Led by Ramsey's undeniably strong voice the song lumbers forward with great power. Stylistically the song incorporates elements of dubstep and classical into a satisfying whole. The clever concise arrangement takes its time in unfurling slowly revealing a great deal of intricate layers and patterns. Once Ramsey lets these interact, growing in intensity, the imagery grows ever stronger. Coupled with this ever expanding array of textural colors are the articulate, highly thoughtful lyricism.
Share "Pay" with your audience via Soundcloud:
https://soundcloud.com/ramseysound/pay-remastered
Things open with a skeletal structure. Almost industrial in nature the song's low key nature helps to set the atmosphere. Spacious in scope the song glimmers about a third of the way. Greater sound rears its head, teasing out a climax of sorts. Ramsey's vocals help to further emphasize this flirtation with the sound's ultimate demise. As soon as it has begun the sound grows ever smaller and smaller, as the tension builds. Bass lines rumble through across the spectrum, giving the song a deep satisfying backbone. Sweeps of synthesizer come into the mix resulting in the song's finale of grandeur. Everything works together bringing the song to a satisfying conclusion as the sounds intermingle, with Ramsey's voice leading the way. On the song's final moments it all comes together resulting in a fevered pitch.
Smart and sophisticated Ramsey's "Pay" is an absolute joy. With immaculate sound design and crisp emotive bass line, "Pay" creates an immersive experience.
Posted by Beach Sloth