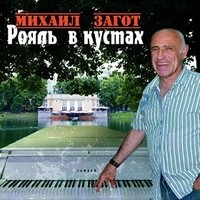 Mikhail Zagot's "Piano in the Bushes" is playful to its core. Full of color these pieces positively teem with life. Stylistically varied Mikhail Zagot's music runs the gamut from the theatrical opener to the folk influenced closer. Tying together these many approaches is Mikhail Zagot's strong vocals which show off quite a wide range. His voice, alongside his carefully crafted and highly articulate lyrics, help to make this a truly remarkable album.
Audio: https://itunes.apple.com/ru/album/roal-v-kustah/id964104313?l=en
Things open on a high note with the giddy bouncy work of the title track "Piano in the Bushes". Rich in sound the song simply soars. On "From Empty to Vacant" Mikhail Zagot opts for a stripped down nimble folk approach. Going for something considerably larger is the celebratory sound of "Let's Go!". Absolutely infectious "Let's Go!" swings with a perfectly engaging groove. Guitar work is particularly rich on the subtle "Resort in November". Easily the highlight of the album, "Resort in November" simply creates a compelling story, with Mikhail Zagot's lyrics almost poetic at times. A baroque approach is employed to great effect on the rambunctious sound of "Hunting". Downright lovely in sound and style is the affectionate "Mother" where Mikhail Zagot's vocals are particularly fantastic. Ending things on a clear note is the vocal duet of "Indigo and Aquamarine", with the whole band working wonders to instill a sense of community.
Михаил Загот – Еврейская Солонка
https://www.youtube.com/watch?v=eaEA9ZvnGIo
Catchy to its very core, Mikhail Zagot's "Piano in the Bushes" is thoughtful thoroughly engaging pop.
https://www.facebook.com/mikhail.zagot
http://zagot.ru/
Posted by Beach Sloth