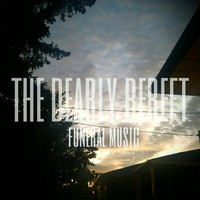 Emerging out of a dreamy haze, The Dearly Bereft's "Funeral Music" is surreal shoegaze. The Dearly Bereft focus on the spacious as their songs are atmospheric, almost airy with their crystal clarity. Complete balance is of the utmost importance as the band pays close attention to the smallest of details. Slow tempos certainly help this otherworldly sensibility alongside the oftentimes haunting melodies that permeate "Funeral Music". Tying together all of these songs is a small sense of hope that guides the sound forward. With expressive vocals courtesy of Anna Navrota alongside the lush layers of sound provided by Ben VanBuskirk, Mike Millar, Cyrus Bapooji on keyboards and Shane Burrow's deliberate drum work, the entire collection simply fits together ever so perfectly.
http://thedearlybereft.bandcamp.com
Starting things off on a gentle note is the Twin Peaks referencing work of "Laura Palmer". On "Some Devil" The Dearly Bereft strip away their many layers to create a more intimate, warmer, sound. Anna Navrota's vocals are particularly exquisite and expressive as the song progresses ever so surely. Forgoing lyrics entirely is the ominous swirl of "Hungry Ghosts". By far the highlight of the collection is the Low-insired work of "Radio In The Funeral Parlor" with its slow deliberate pace and thoughtful narrative. Ending the collection on a high energy kick is the giddy "So It Goes".
Tapping into the blurred yet beautiful sounds explored by similarly minded artists like Boards of Canada and Galaxie500, The Dearly Bereft create songs for cloudy skies on "Funeral Music".
http://www.facebook.com/thedearlybereft
http://www.twitter.com/thedearlybereft
Posted by Beach Sloth