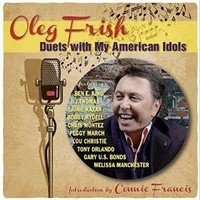 Oleg Frish was born and grew up in the USSR, but it couldn't put a crimp into his love for American retro music. He would grab any chance to touch that culture, which was a forbidden fruit in the country ruled by the Soviet system back then. By his teens he had learned by heart around 15 000 songs of not only Russian artists, but European and American ones as well. He was driven by true passion, that didn't know the word "impossible". His sincere interest has led him to the point where he's released the album Duets With My American Idols, which was recorded in collaboration with the ones he always admired and looked up to, the ones who inspired his lifetime journey. On the album Oleg Frish sang duets with ten great singers: Bobby Rydell, Gary U. S. Bonds, Lainie Kazan, the late Ben E. King, Tony Orlando, Melissa Manchester, Lou Christie, B. J. Thomas, Peggy March and Chris Montez. In addition to that, the introduction was made by Connie Francis. As Oleg himself puts it, "Making this album and getting a chance to sing with so many incredible artists was really a dream come true." And one can easily understand why.
Oleg Frish, – now based in New York, where he's lived since 1992, – is a many-sided personality, who made his eminent career as a TV and radio host, music historian, as well as a singer and performer. In 2016 he's celebrating his 20th anniversary in this field. In the course of these years he's interviewed over 2 000 celebrities, including his changeless heroes, like B.B. King, Engelbert Humperdinck, the late James Brown, Kenny G, Donna Summer and others.
The legendary singers of the golden years, who took part in creating Duets With My American Idols, praise and admire Oled Frish's love for the Great American Songbook's music and his genuine desire to promote this kind of music, what truly deserves respect and inspires.
The album includes such soul, pop and rock'n'roll hits of 20's-60's, like Hello, Dolly; You're Nobody Till Somebody Loves You; A Fine Romance; On The Sunny Side Of The Street; Till There Was You and others.
Oleg's pleasant, soothing voice swings, inviting one idol after another to join him in his passionate dedication to the music that, as he always believed, "is the greatest music ever recorded." You can literally feel and hear how Oleg smiles, singing throughout the album, for it is just a labor of love; and one can only imagine what an overwhelming experience for him it was.
Oleg can perfectly feel the vibe of the songs he's singing, for he's lived with them all his life, since early childhood, when he first heard the magical sounds of the music that would define all his life.
It is perfectly understood that any evaluation of the songs of Duets With My American Idols is irrelevant, for they are well-recognized and appreciated as gems of the world culture since long ago. What is truly notable here is the example of how an American dream can come true in spite of any obstacles.
AMAZON: https://www.amazon.com/gp/product/B00VM6VQOK?ie=UTF8&*Version*=1&*entries*=0
Anastasia Shanueva