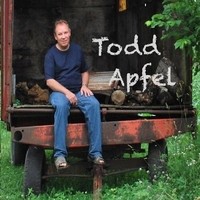 Sung straight from the heart, Todd Apfel's "Reflections EP" is a true joy. Arrangements are playful nicely accompanying the tender thoughtful lyricism. Remarkably inviting Todd Apfel manages to create leisurely songs that reflect upon the simple pleasures in life. Throughout the collection Todd Apfel shows off his impressive arrangements, from the giddy sound that opens the EP to the fantastic guitar solos intermingled into the pieces.
Things begin on an optimistic note with "A Beach And You". Romantic in tone the song's lyrics focus on true unbridled desire for a loved one. A country approach dominates on "Comin Home To You". Sung with great passion the song gradually builds in intensity. Introspective in nature the song's languid tempo guides the way, helping it come into full bloom. By far the highlight is the ambitious sound of "Coloring Outside The Lines". With a rumbling bass line the song possesses incredible power. Downright infectious in nature the song's melody soars to the heavens creating a downright pitch-perfect bluesy kind of song, one that harks back to an earlier rawer kind of rock. This approach continues with "Hot Summer Love" where Todd Apfel's guitar work takes front and center stage. "Reflections" closes the collection on an introspective note. Gentle melodies collide as the piece grows ever so slow unfurling its vast array of colors and sound.
Easygoing to its very core, Todd Apfel's "Reflections EP" is a soothing satisfying whole.
https://www.facebook.com/ToddApfelfromViningIowa
Posted by Beach Sloth