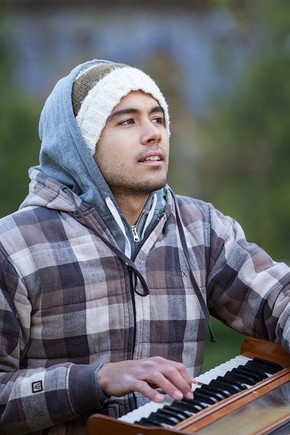 It is rare that musicians find their inspiration from the world that surrounds them everyday. But upcoming singer / songwriter Daniel Gray has managed to incorporate his love for what God gave us into his music. He grew up listening to the vinyl collection that his father played every chance he had. The sounds of the Beatles, Hush and Bobby McFerrin filled his living room and he and his brother took it all in. This is where the musical seed was planted.
But it became official after Daniel had a dream of playing an electric bass guitar. He relayed this dream to his parents who went out and purchased a mandolin for him. Even though they misunderstood what he really wanted he learned to master it. As he grew up he became familiar with artists like Puff Daddy, Smashmouth and Barenaked Ladies. Then after he attended the Bela Fleck and the Flecktones concert that sealed it for him.
Daniel learned to play mainly string instruments like the bass, cello, guitar and banjo. Besides the strings he also picked up the drums and piano. He was lucky that his school had a strong music program where he studied instruments like the piano, recorder and also sang in a chorus. Daniel was trained classically during his younger years with private teachers. He would soon back this up by attending Victor Wootens Music/Nature camp in Tennessee. In High School he even helped create a soundtrack for the schools Digital Science Department.
"Nature has a certain wildness to it, a recklessness and abandon. The Wilderness is untamed and somewhat frightening in a powerful and Beautiful way. These are qualities I find attractive. The smell of the desert after rainfall is exquisite and unlike anything else you can find. You walk into a forest or a forgotten meadow and there is a certain Reverence to it, a Silence, like walking into a cathedral or temple. In this space one can feel Safe, clear-minded and calm, away from distractions and business. I like the idea of bringing this Vibe into the music I work on."
Daniel took his music on the road and abroad across America and even in South America. He has played at music halls, restaurants, clubs and even on the street. Daniel is one that is not shy about performing in public. One of his memorable shows was at the Colonial Theater in Keene, New Hampshire. He also took the stage at many cafes in San Francisco and New York.
As he progressed he released his debut album (titled "Daniel Gray") in 2006 which was a Nature-themed LP of original compositions. The inspirations for the album came from his time in Northern California where he was studying Natural History. As a new solo artist he made modest sales but it proved to motivate him to push forward.
Currently, he is working on a full length studio album (working title "Inprints") of Nature Music. It will combine instrumental pieces with sounds of Nature. It is not an easy task to combine both disciplines and make it sound perfect. He is going for a super polished and professional sound. The effort to accomplish this project is taking longer than Daniel had expected but he is looking for a 2016 summer release.
by Nick Christophers