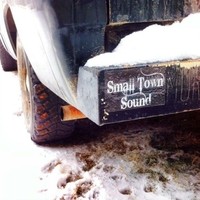 Sung straight from the heart Small Town Sound's "For Mama EP" is Americana at its absolute best. Lyrically these songs describe the day to day life of living honestly with oneself. Tuffy Casteel's voice conveys this sense of purpose with crystal clarity. At times Tuffy Casteel's vocals recall Rob Thomas at his absolute best. Besides this are the flawlessly executed arrangements.
Audio: https://soundcloud.com/mallownound/sets/for-mama-ep
"Whiskey" opens up the EP with a stripped down sound. Tuffy Casteel's voice is accompanied by only a single acoustic guitar at first. By the time the rest of the band comes in the song gets pretty rambunctious with a swinging rhythm and blistering guitar riffs. Harmonica work does particularly fine on the driving rhythms of "Racing To You". A love song at its very core the song's passion is palpable. Anthemic at its core is the inviting work of "Tailgate". Easily the highlight of the EP the song focuses on the hope that the future can bring, how the optimism of looking forward can guide a person's faith and devotion. Ending things on a strong note is the sprawling epic "Harder Times". The buildup is particularly fantastic as Small Town Sound lets the song unfurl slowly but surely, resulting in a satisfying finale. Longing for something more, "Harder Times" describes the pain that can happen when a loving couple has to spend time apart, due to work and due to duty.
With just the perfect level of grit and soul Small Town Sound's "For Mama EP" is country music done right.
https://www.facebook.com/SmallTownSound
Posted by Beach Sloth