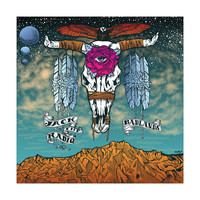 Jack the Radio's "Badlands" deserves to be blasted as loud as possible. Packed to the brim with intricate arrangements Jack the Radio's music positively soars. Aiming for the skies Jack the Radio goes for an epic all-encompassing sound. With a multitude of divergent styles married together (country with indie, hard rock with blues) Jack the Radio is greater than the sum of its parts. The three years spent working on "Badlands" seems to have served Jack the Radio quite well. Songs are lived in, fully fleshed out, while maintaining a wonderful 'live sound'.
Audio: https://jacktheradio.bandcamp.com/
"Bad Man" opens the album up with true grit. Vocals tie the song together at first as lyrics hover above the clever almost lounge-like sound, Jack the Radio works itself into an absolute frenzy. Things move into a driving rhythm on the passionate work of "The Runaway". Blending together elements of electro, jazz, and funk "Ain't so Bad" is incredibly catchy, with lyrics that sort of mirror the song's sense of determination. Stripped down to pure rhythm is the Grizzly Bear influenced work of "Moonlight". Easily the highlight of the album the song strength comes from its attention to build growing ever larger and larger until the song's cathartic finale. Offering up a sense of playfulness is the folk tinged "Wild West Woman". "Hills" closes the album off on a high note as the guitars soar and the song swings forward with great power.
Jack the Radio's "Badlands" is what more indie rock should sound like: passionate, raw and unrestrained.
http://www.jacktheradio.com/
https://www.facebook.com/JacktheRadio
Posted by Beach Sloth