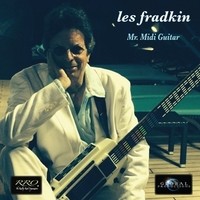 'Mr. Midi Guitar' himself, Les Fradkin, brings to you a hot off the press album that's like nothing you've ever heard before! The record features eight, digitally remastered compositions from previous albums and one brand new recording for 2016 titled "Ode To Joy". What you get here is a musical montage of innovative richness and pure precision that's crystal clear. 'Mr. Midi Guitar' is a classical/modern masterpiece for the ages and Les Fradkin is the ultimate maestro. The technology used by Les Fradkin to create 'Mr.Midi Guitar' is just off the charts where the programs: Apple Logic Pro, MOTU Digital Performer and Propellerhead Reason were used. The end result is lightning in a bottle where real magic was caught on tape and recorded for all to hear. And one of the main centerpieces is Les Fradkin's one of a kind Starr Labs Ztar where Les plays this unique instrument like no other. I've had the pleasure to review many of Les Fradkin's works and just when I thought I heard the best from 'Mr. Midi Guitar' he proves me wrong! The production is dynamite, the arrangements are so tight and meticulous and the playing is second to none on the latest album. 'Mr. Midi Guitar' is a proven success and smash hit for 2016!
The record starts up with "Lift Off" where you will hear swift & steady that will lift your spirits and excite your ear drums. This is an original composition from Les Fradkin that first appeared on his album 'One Link Between Them' and now Les has rejuvenated this number giving it a fresh & exhilarating sound. Next up is "Presto Changeo" that features emphatic playing from Mr. Les Fradkin and one top-of-the-line production that's professionally sound. This composition was originally devised by the masterful Johann Sebastian Bach written as the Presto Movement to a solo violin sonata. Les has digitally enhanced this number with the Ztar stealing the show bringing a whole new atmosphere and vibe to this classical number. Rolling along you will hear "Canon In D" that serves up one catchy Pop melody on top of classical/Baroque elements that rock. "Cannon In D" is Johann Pachelbel's most prized composition as Les provided more of a popular appeal and rock sensation that adds up to one dynamite arrangement. Fradkin's version of "Canon In D", included on the album 'Baroque Rocks!', has been a Top 10 Hit on Amazon.com and is a fan-favorite for sure. "Sabre Dance" is track #4 where you will hear sensational sounds bouncing around and hitting you from all directions. This well-known classical piece composed by Aram Khachaturian has been re-orchestrated and rearranged by Mr. Midi Guitar himself where the Ztar takes this composition to new heights. This one is another crowd-pleaser with its highly original style and phenomenal playing that's full of high energy and pure excitement. It's worth mentioning that "Sabre Dance" was a big Pop Hit for Love Sculpture back in 1968 and so Les Fradkin is breathing fresh, new life into this number that's infectious. Heading into "Summer", you will sense notes that are shining bright and get a spacious sound that is full & vibrant. "Summer" originates from Vivaldi's "The Four Seasons" and Les Fradkin has arranged this piece in such a way where the classical & rock worlds collide creating a big party for your ears. It's worth noting that Les Fradkin did the first ever arrangement for Starr Labs Ztar on "Summer" and this remastered gem was first heard on Les Fradkin's 'Baroque Rocks!' record. "Warp Dance" (aka "Warp Drive") is the sixth installment on 'Mr. Midi Guitar' and an original composition from Les that was first featured on his 'One Link Between Them' album. This track has been remastered and newly titled as the digital effects are insanely contagious and utilized perfectly on "Warp Dance". There's even a recorded voice in the intro that says "We'll take you!" where I have to say Fradkin Comes Alive! "Back Rocks" is next on the list and proves that Les Fradkin is a true visionary & musical genius transforming this Bach piece into something so hip & innovative. This super, sonic explosion of sound will have Johann Sebastian Bach rockin' in his grave as Les Fradkin takes you on one incredible ride that will leave you feeling dumbfounded. "Back Rocks" is redesigned and reimagined in a way only Les Fradkin would successfully be able to pull off. This composition is sure to satisfy your musical palette. Track 8, "Ode To Joy", is the brand new 2016 Les Fradkin recording putting a whole new spin & direction on a famous Beethoven piece. This composition has had many Rock covers over the years like Ritchie Blackmore and Rainbow most notably but Les is emphasizing the classical symphonic rock side of things on "Ode To Joy". The audience will get to hear Les playing both the Starr Labs Ztar and Limited Edition Hallmark Signature guitar. I would have to say "Ode To Joy" has my full stamp of approval and furthermore Electric Light Orchestra knowing a thing or two about this area/genre I can imagine would also be giving Les Fradkin thumbs up on his stellar performance. Closing the show in style and with command, "Presto Changeo (Reprise)" (aka "Presto Varitioni"), may be the last installment on 'Mr. Midi Guitar' but certainly not least. On this number, one will experience a big production that provides a bit of mystique and wonder, which is a bit of a different approach for Les Fradkin. Les never ceases to amaze me as he's able to make music that continues to blow my mind and break barriers musically. "Presto Changeo (Reprise)" is a nice change of pace for Les Fradkin where power meets synchronicity in one highly compelling piece. All I can say at the conclusion of 'Mr. Midi Guitar' is BRAVO AND ENCORE as Les Fradkin definitely deserves a standing ovation so I applaud you Sir. And with the theatrical elements present on "Presto Changeo (Reprise)", maybe we could see an all-out Broadway production of Fradkin's music coming to life on stage or perhaps a musical score to a film…Who Knows??? This would not surprise me one bit since Les Fradkin has continually proved that he can shape and reinvent a sheet of music in such an efficient & effortless manner taking leaps and bounds each and every time he plays.
All songs on 'Mr. Midi Guitar' are produced by Les Fradkin and his wife Loretta Fradkin. All songs © 2008-2016 RRO Entertainment OBO Fradkin 2000 Music (ASCAP) and under Exclusive License by RRO Entertainment to Streetbeatz Music/Global Productions Digital Download Release: "Mr. Midi Guitar". Don't forget to check out the 30 second commercial for 'Mr. Midi Guitar' right here (https://youtu.be/2ooB9IEysgg)! And you can download the full album on iTunes & Amazon right now:
https://itunes.apple.com/us/album/mr.-midi-guitar/id1077537822
https://www.amazon.com/gp/product/B01AXBS6A6?ie=UTF8&ref_=zg_bs_tab_pd_bsnr_2
With the release of 'Mr. Midi Guitar', Les Fradkin has much, much more on the horizon so stay tuned!
http://www.lesfradkin.com
http://www.reverbnation.com/lesfradkin
https://www.facebook.com/lfradkin
http://www.youtube.com/user/lfradkin
http://twitter.com/lesfradkin
Rating: 5/5 Skopes
By Jimmy Rae + (jrae2@att.net)