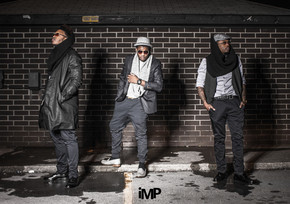 Classroom Majors consist of 3 blood brothers who are living under one roof, well at least for the moment! Being raised by a single mother, music seemed to be the other parent, especially Gospel. Kash, Noez and Astro were born in Nashville Tennessee but relocated to Atlanta in 1999. Each brother has their unique musical styles . Kash, the soul singer who is 26 and is the oldest out of the 3 grew up listening to nothing but R&B and Soul music with such artists as Brian Mcknight, Musiq Soulchild and Bobby Valentino. Noez who is 25 (the middle child) was heavily influenced by Tupac Shakir and you can catch glimpses of this in his hardcore rap flow. Astro the youngest at 22 decided from early on that he would fuse the genres. So you may get him singing or rapping on a track or both! You can tell that there had to be a Gospel influence because of their delivery. All agree that their material is message music and there is no denying that the Man above is looking after this family. At a time when most Black males would be locked up , addicted, or dead; these blood brothers from the same mother have decided to live their lives on purpose for a purpose. When they relocated they were introduced to elements and expressions that tie in with the Hip Hop world.
All 3 belonged to other groups at one time or another but as fate would have it all of the brothers were available at the same time to begin working on their new material collectively as a unit. In 2010 Classroom Majors collaborated further all of their gifts, and as a self contained artistic production company formed "BodyShock Productions." These brothers maybe young but are definitely ready with regards to specializing in graphic art design, audio engineering, photography and videography. Classroom Majors have released several singles on mix tapes distributed by Datpiff as well as on Mymixtapez by https://spinrilla.com. They recently signed a single distribution deal with Tidal which allowed for their music to be placed in rotation on such global platforms as Pandora, Spotify, Xbox and iTunes. These brothers are message bearers by displaying positive messages in their songs. Their audience range is from ages 15 to 40. Currently they work with a variety of producers such as Bobby Johnson, Jason Beatzz and others.
Their single "I Want Her" is currently #1 requested song on Hot944 FM out of Miami, Florida and it is being played on Power 1079 FM out of Hollywood, California, Houston's Hot 947, as well as Radio Airplay is gaining fans all over the world daily.
Classroom Majors has opened up for such acts Mario in New York and Jacquees of Young Money /Cash Money.
The brothers have also been nominated for various awards such as 2014 Atlanta Underground Music Awards/Best Group, 2015 Georgia Music Awards/Best R&B Group, 2015 Josie Show Music Awards/Best Male R&B Artist, 2015 ATL's Hottest Entertainment Awards/Best Male R&B Group and Best Male Hip Hop Group.
No matter how many awards they win it is very important for Kash, Noez and Astro to be seen as actually "doing" and not just singing or rapping about what they are going to do. It's almost iconic that these young men want to leave a legacy of giving back to the less fortunate and regenerating wealth within their communities. The single "While I'm Here" is an Inspirational legacy song while "Lovequest" is an R&B song. For the most part the word diverse can be used as an adjective to describe this group. Board of Education is about to be released as well as Limited Edition EP with a total of 19 new songs!
They wish to be known as the group of talented and gifted brothers who were honest and kept it real. When asked what were their favorite quotes they had this to say. One brother who had just finished reading Rick Warren's Purpose Driven Life 2:Timothy 2:22
"Turn from anything that gives you evil thoughts but stay close to anything that makes you want to do right." Another said his was "Walk by Faith and not by Sight." Lastly was the quote "Pressure only exists to the owner of a weak mind!"
Overall I think we safely can say that these brothers play together, live together and will stay together because they have discovered the secret, that being there is power in unity! If one does decide to go solo then I know it will be based on their terms. After all they are Classroom Majors and I hear that deals are on the table from Capital Records who seem to be interested. These brothers have a great attitude and they intend to make every effort of keeping positivity as the new cool! For further information check out their site
Website: http://www.weareclassroommajors.com
Twitter: https://twitter.com/classroommajors
Itunes link: https://itunes.apple.com/us/album/i-want-her-single/id1013100517
LA Virgil-Maldonado, MBA – lavirgil2010@gmail.com
Walk in Your Divine Purpose in 2016 – http://www.hismultimediaintl.com