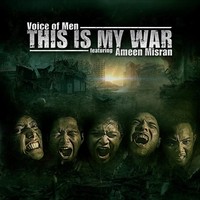 The first single by Malaysian vocal quintet "Voice of Men". Track called "This Is My War" held the number 1 in the radio charts for 11 weeks. This success is obvious, as a holistic impression of the song captures a wide audience and inspires.
The single is released by the Awakening Records (British label which releases songs in both music and vocals-only formats in Arabic, English, Turkish, Malay, Bahasa, Hindi, Persian and Urdu.)
Intro can be described as smooth and sharp at the same time. That is not surprising, because the guys are specialized in Pop / Rnb music production. The group consists of 5-"voices" that is reflected in the mood of the song – it is variable, but develops into a single stormy picture. Unexpected but felicitous contrast added by determined recitative of special guest Ameen Misran. I would even say that it is "soft milkshake with tart topping".
Music smoothly follows the line of story described in the text which brings epic to the song. Heavy guitar and drums sometimes control the mood.
This is like two sides of the soul struggling to be themselves – one side leads to an open battle, the other – to listen to the heart. This is clearly illustrated by transforming of hard convincing recitative to encouraged and hopeful singing.
Resolute attitude transmits music and text, built dramatically, with an emphasis on each line, highlighting strictly tuned position:
"I clearly gonna WIN,
I am strong,
Believe,
I'm never gonna back down,
You are wrong,
So please,
JUST LEAVE,
NO MORE,"
Listening to these words, I find inspiration. I want to pull myself together and go beyond all limits to finally begin to fight against everything that prevent to be where you want:
"I'm gonna fight alone this war,
I'm not the same you know before,
I'm gonna fight my way,
To live another day."
The basic idea is devoted to the inner struggle with themselves and their fears. The composition is full of cries that call not to give up and believe in yourself:
"STAND UP,
FIGHT IT ALL OUT,
I'll never give up,
I'LL NEVER ADMIT INTO DEFEAT. "
As a result of all this is put together:
"I gotta fight my war,
I GOTTA FIGHT ALONE THIS WAR,
TO THE END."
It easily could be the soundtrack to a film about the positive hero who just caught up in the routine of life and wants to get out and express himself. "Voice of Men" still working on a couple of songs in the same genre. I am not sure about the topicality and freshness of this genre, but this combination of specific arrangements and vocals combines more than smoothly. Especially when you consider that in the world of music at this stage a lot of musical styles outlived themselves and it can be saved by some modernization or the mixing of different genres and visions. In conclusion there still not enough detachment from the typical canon of such music, the style and arrangement of this track is perfectly guessed, like it is fished out of the most popular artists in this genre, rather than a fresh and new look to it. At last I want to wish the guys success in the future and hope that they will bring some variety in their compositions. I'm sure they will be winners in their war.
FACEBOOK: https://www.facebook.com/VoiceOfMenProduction/
4/5 Stars
I-TUNES: https://itunes.apple.com/us/album/this-is-my-war-feat.-ameen/id994831227
by Alina Kolesnik