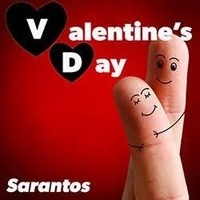 Sarantos captures joy and passion on "Valentine's Day". Irresistibly catchy the song's melody is an absolute pleasure. A wonderful hook guides the song forward. Carefully arranged the true center of the song is Sarantos's strong assured voice rising above. Everything simply works from the tender sound of the guitars to the gentle rhythm that anchors the song. The piano work is particularly expressive hitting the right balance between the playful and the sincere because love can be playful yet sincere. Articulate and clear, Sarantos does an incredible job in expressing the many variations of love and how it can help people find comfort in the world.
"Valentine's Day"
Beginning with a particularly inspired introduction (courtesy of the exceptional percussion work) Sarantos explores the concept of love. Throughout the song Sarantos illuminates different aspects of love, its purity and its strength. About halfway through the song "Valentine's Day" bursts forth in wonderful color. With its soaring guitar solo the song begins to get a little wild. Aptly dropping out everything all that remains is Sarantos's calm voice guiding the way. Towards the end the song appears to rush into kaleidoscopic color as the piece grows ever larger and larger. His ode to love feels especially soothing given how effortlessly the interplay seems to emerge out of the song, of how everything simply merges together into a perfect whole.
Downright charming, Sarantos offers a stunningly sweet vision of the perfect kind of relationship on "Valentine's Day".
Posted by Beach Sloth