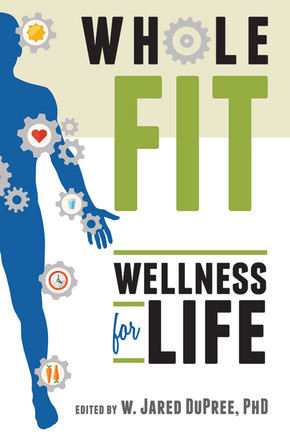 W. Jared DuPree's "WholeFIT: Wellness for Life," provides literal and vital tips to help you become not only physically healthy, but mentally and socially as well. Are you eating healthy and exercising regularly but still feel like something is missing? "Whole Fit: Wellness for Life" edited by W. Jared DuPree, PHD, claims that health is about more than just dieting and exercising. Those things are important, but to have a completely healthy life, you must find balance with your physical, mental, and social health. All things are connected in our lives, and thus all things connect to health. Dupree starts by telling how six years ago he was told he wasn't healthy, even though he was eating well and exercising. He was a wellness professional who fell into the age old trap of being a doctor; but he was being the bad patient. He realized that he wasn't taking care of his mental or spiritual health and that took a toll on his physical health.
This book gives vital advice for having a physically, mentally, and socially healthy and balanced life. Filled with articles from various experts, and of course advice from W. Jared DuPree, himself, this book is a must have.
"WholeFIT: Wellness for Life" by Jared DuPree, PhD
https://www.youtube.com/watch?v=sGaHEpchxX8
About the Author
Jared earned a Ph.D. from Kansas State University in Human Ecology, an MBA from University of S. Carolina and is a Licensed Marriage & Family Therapist. He is an Assistant Professor at Dixie State University and has 12 years experience as a researcher, author, and practitioner of health & wellness. He is the founder of Health & Wellness Solutions, and the Center for Couples & Families. He acts as the Director of Behavioral Health & Wellness for several medical clinics and communities.