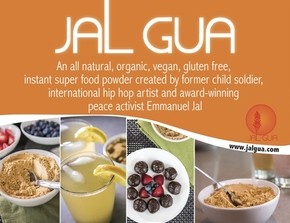 Jal Gua, a super-food developed by former child soldier and international hip hop artist and activist Emmanuel Jal, is now available at selected Whole Foods Market locations. Jal Gua is an African inspired product that provides 140% iron and many other essential vitamins and nutrients. Jal Gua is currently sold at selected Foodland and Sobeys stores, the Big Carrot (Toronto) and specialty supermarkets and health food stores in Ontario.
Emmanuel, a South-Sudanese former child soldier, who went onto become an international recording artist, author and entrepreneur, created Jal Gua in 2012 after being hospitalized twice, diagnosed with high blood pressure and his doctors feared diabetes was not far off. Emmanuel, noting that few from his village suffered from diabetes, returned to eating traditional African foods and ingredients in an attempt to normalize his diet. He developed Jal Gua, using the staple African foods sorghum and moringa, to add to smoothies, drink on its own as a supplement or sprinkled on top of his food to give him an extra nutritional boost. Emmanuel returned quickly to perfect health and launched Jal Gua last fall to bring his super food to Canadian consumers.
Jal Gua is a multi-purpose super-food in the form of a powder, which can be mixed with cold water as a drink, added to smoothies, drank as a tea or made into soup or sprinkled on cereals, porridges, and salads. Jal Gua contains an average person's recommended daily intake of:
•140% iron
•30% copper
•10% phosphorus
•2% calcium
•6% Vitamin A
•40% vitamin B1
•15% Vitamin B2
•45% Vitamin C
•12% fibre.
Jal Gua is made with all organic ingredients. Jal Gua is also gluten free.
Emmanuel is an internationally recognized public speaker and performing artist, tirelessly working to share his story of war, peace and social activism and empowering others through local and international initiatives. Emmanuel believes that a healthy body is the first step towards creating change and as such, he has invented Jal Gua.
Emmanuel was born into the life of a child solider on an unknown date in the early 1980s in the war-torn region of Southern Sudan. Through unbelievable struggles, Emmanuel managed to survive and go on to become an international recording artist, achieving worldwide acclaim for his unique style of hip hop with its message of peace and reconciliation. His music, message and passion were born from his personal experiences.
Emmanuel also co-starred with Reese Witherspoon in the Warner Brothers motion picture, THE GOOD LIE, which tells the story about the journey of four young Sudanese refugees (based on The Lost Boys of Sudan) who win the lottery; relocation to the United States.
As a witness of war and for his activism, Emmanuel has addressed the United Nations, US Congress, the Carter Centre and the highest tiers of several governments. He is also the founder of Gua Africa, an educational charity for victims of war in East Africa. A portion of the proceeds from the sales of Jal Gua go towards supporting Gua Africa –