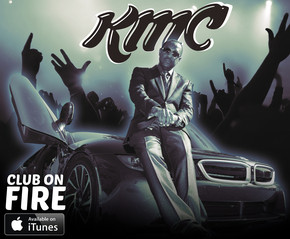 Ken Marlon Charles, better known as KMC, has broken the cultural barrier and landed a punch in NY. Coming from humble beginnings KMC found it was not easy breaking into the music industry but he would not give it up. At a young age he took up the drums then the keyboard with no formal training. KMC's determination was evident as he took every opportunity to catch local bands in his native Trinidad.
The music of his land was Soca but Dancehall was what he picked up first. The dancehall genre originated in Jamaica but spread to many of the islands of the Caribbean. KMC would soon play with many musicians and release sixteen of his own records. His first set of albums were in the dancehall genre but by1997 he switched to the music of his country, Soca.
KMC's first soca record was in 1998 "Bashment To Carnival" it became a major record for him and a classic. Around the same time he released two more chart breakers "Kaya" and "Soca Bashment". These releases established him as a leading Soca artist. He would form his own band in 2005 "Red White & Black". They became major players in the soca world.
KMC would come out with a project entitled "Soul on Fire" that producer Patrick Moxey of Ultra and Sequence Records was introduced to. Patrick would go ahead and sign him and KMC would make good on that opportunity. The single made it to the Billboard Top 200 at the same time as Trinidad entered the World Cup for the first time. To compliment the single a remix was completed by dancehall star Beenie Man and American DJ Fat Man Scoop.
In addition, KMC had the honor to join Beenie Man on his US "King of the Dancehall" tour. Soon he would move on to also producing projects with acts like Machel Montano, Bunji Garlin and also did soca collaborations with dancehall acts Vybes Kartel, Bounty Killer and Shabba Ranks and others. His work has influenced other artists in the soca genre like Voodoo, Drunk Man, Concubine, Party Alliance and the Thunderbirds.
KMC would end up releasing over twenty five tracks with well known producer Redone. His work with Redone put him on the map of the pop scene when he released the track "Everybody Jump". The success of the project open the door to a European tour. At this point of his career he decided to flow with the times by creating a recipe of various genres.
Currently, KMC is due to drop a Pop / dance record called "Club On Fire" (https://www.youtube.com/watch?v=C7RUjxZxoFk).His new management team Triple SSS are making major strides to place KMC on the US music scene in a big way. They had already hosted a video release party for the track at the swanky club Hudson Terrace in Manhattan. The new project is due to be a dance music favorite with its upbeat rhythm and Caribbean twist. You can find the promo on iTunes at – https://itunes.apple.com/us/album/club-on-fire-single/id1033256742
KMC is also on the cusp of working on another project with International singer / actress Lady Long Long who is another overseas talent breaking into the entertainment industry. There is no knowing what KMC is looking to do next but 2016 is due to be a big year.
by Nick Christophers