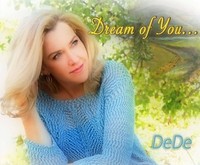 "Dream of You" is an album full of joy. Lyrically the songs are optimistic and sunny. Her songs focus on the future that helps people move forward, as her combination of storytelling and hope feel particularly satisfying. Arrangements are meticulous. Stylistically "Dream of You" effortlessly blends together elements of folk, country, and rock into a colorful whole. By far the highlight is DeDe's deeply reassuring voice guiding the way. DeDe displays a careful knack for the perfect melody, as these are songs that linger in the mind long after they are over. The attention to detail, song structure, even the gradual build-up, is absolutely astounding.
Feb IMC Magazine Feat DeDe:
http://www.joomag.com/magazine/mag/0012248001449129331
With the title track "Dream of You" DeDe starts the song off on a quiet note. Elegantly executed string work introduces the song. DeDe's voice takes command of the song as it gradually comes into bloom. Towards the end of the song all that remains is a spectacular soaring guitar which brings the song to a comforting close. Opting for a languid tempo is the hushed whispers of "Prime of Life". Lyrically the song focuses on truly reaching one's stride. Powerful and moving, "Stronger" possesses an impeccably crafted melody. Warm and soothing, the song's driving rhythm helps to reinforce its sense of purpose. By far the highlight of the album is the intimate love song "My Unsung Hero" where everything simply works, from the affectionate lyrics to the nimble rhythm.
A unique voice in the musical universe, DeDe's "Dream of You" is full of gorgeous pop gems.
Posted by Beach Sloth