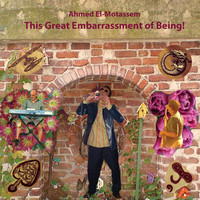 Ahmed El-Motassem's "This Great Embarrassment of Being!" showcases a unique voice in the musical universe. With highly articulate, thought provoking lyrics Ahmed El-Motassem explores what it means to be alive in this moment. Environmentalism, one's place in the world, philosophical discourse, all of this is laid bare through Ahmed El-Motassem's carefully crafted stories that serve as the heart for each song.
Audio + Buy:
http://ahmedel-motassem.bandcamp.com/album/this-great-embarrassment-of-being
https://www.amazon.com/gp/product/B018N0HJSE
Opening up with the concise arrangement of "Alive" Ahmed El-Motassem's vocal delivery fits perfectly with the languid intricate groove. "Savages" takes a more rock-based approach as the song has an almost celebratory feeling to it. Guitar work is particularly terrific and the organ vamps are especially satisfying. With a hushed beginning is the drama-filled work of "Bad Old Friend". As Ahmed El-Motassem's story unfurls the song gets heavier in tone. By far the highlight of the album is the sprawling ambitious work of "This Great Embarrassment of Being!". Coming into full bloom the piano work and the percussion come together perfectly. Bells introduce the slinky funky groove of "Satan on the Loose". Throughout "Satan on the Loose" Ahmed El-Motassem describes the often contradictory actions that occur around holidays. A sample serves as the core of "Revenge of the Hidden It" as the song grows ever busier. Irresistibly catchy is the straight-ahead rush of "Burns to Heal". Ending things on a playful note is the giddy work of "Make Up and Make Love".
"This Great Embarrassment of Being!" draws the listener in thanks to Ahmed El-Motassem's skillful arrangements and undeniably engaging lyricism.
Posted by Beach Sloth