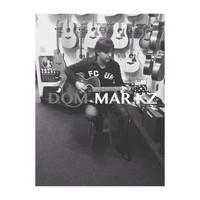 With strong passionate vocals embodying a sense of hope, Dom Mar Kz's "When It's Tough To Be You" is a warm comforting song. Lyrically the song emphasizes the sense of togetherness. A narrative forms that explains exactly the same of loneliness that can seem to overwhelm a person. The story told throughout the song is one that looks forward to the future, one that focuses on how much better things can be in the future. While it can seem as if a mood of helplessness can overwhelm and last forever, Dom Mar Kz's "When It's Tough To Be You" proves that hope lives.
Dom Mar Kz "When It's Tough To Be You":
https://dommarkz.bandcamp.com/
Beginning with deep resonant piano the song builds up ever so gradually. Dom Mar Kz's voice is accompanied just right. As Dom Mar Kz explores the current dark he offers a salvation of sorts. Reassuring to its absolute core the song states how it is okay to at times feel overwhelmed like there is no joy that is going to come. Yet as the guitar enters into the mix the song begins to turn around growing ever sweeter. By the time that the song comes into full bloom with triumphant percussion and soothing synthesizers, the song feels as if it has reached its ultimate gentle conclusion. With nearly everything falling out of the mix all that remains is Dom Mar Kz's clear concise vocals and his powerful yet restrained piano playing.
Elegant and refined, Dom Mar Kz's "When It's Tough To Be You" is a true gem.
https://www.facebook.com/dom.markz
Posted by Beach Sloth