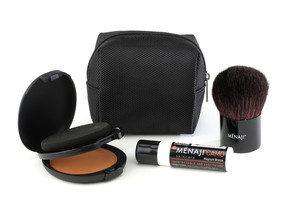 Take all the rules you know about men's grooming. Break them. Then remake them all over again.
That's how MENAJI Advanced Men's Skincare kicked off 2016. This month the Man Bun and Man Purse (or Murse) need to move over because MENAJI introduced The Gregory Beauty Travel Kit, designed to be the ultimate luxury beauty travel kit for a man who cares about his image and understands nature needs a little undetectable help.
The Gregory Beauty Travel Kit will include three hard-to-find luxury beauty products men want, need and use, said MENAJI President Pamela Viglielmo: HDPV Sunless Tan, a Kabuki brush to apply it, and MENAJI'S breakaway hit, the Urban Camo™. The MENAJI Urban Camo™ Is the original undetectable concealer for men created in 2000, and is all-natural, cruelty-free, paraben-free, chemical free, fragrance-free, rich in anti-oxidants, with skin nourishing grape seed oil and natural Vitamin E.
"We all have something to hide. The Gregory Beauty Travel Kit makes it easy to conceal dark circles that make men look tired and old, and gives them a healthy-looking boost in color during winter months for a safe tan. Now no one will know a man's secret because the Gregory bag is so small, it can even fit inside a pocket," Vigliemo said.
Viglielmo said MENAJI developed The Gregory Beauty Travel Kit because industry trends forecast an increased use of concealer by men. The statistics of men's concealer use in the U.S. is evidenced by larger players in the beauty space like Mac and Clinique developing male-specific makeup lines for men, thus MENAJI executives bet that men's new favorite grooming products will be closer to beauty than hair pomades.
"This is not about eyeshadow or lipstick. It's about subtle, undetectable makeup that helps a man achieve a flawless, fresh and more youthful complexion. Everyone knows subtle makeup is transformative. If their image is important to them, men will have one in their bathroom, backpack, briefcase or gym bag for a groomed, healthy look."
The Gregory Beauty Travel Kit is part of the MENAJI Fleet Collection of unique bags for today's global explorers. Made from water- and stain-resistant ballistic nylon in classic black, each bag is lined and smartly finished with MENAJI branded pull tags, and measures 9 cm x 5 cm x 9 cm. The Gregory Beauty Travel Kit is exclusively available at MENAJI for $64.