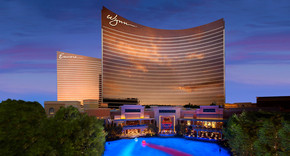 There are very few places in the world that inspire the same feelings of excitement, and expectations of fun, that Las Vegas does upon the very mention of its name. Las Vegas, Sin City, or the Entertainment Capital of the World, as it is often referred to, is renowned for bright lights, brash shows, and bold venues, and there are few better places to experience the biggest acts on the planet. So, what are you waiting for?
The biggest names to grace Vegas's stages in 2016
Some of music's biggest names look set to grace the stages of Vegas during the next 12 months, including those currently enjoying a permanent residence on the Strip. Elton John, Santana, and Jennifer Lopez, for example, are just some of the stars set to appear during January alone, while later in the year you'll be able to catch up with Mariah Carey, AC/DC, Black Sabbath, Celine Dion, Britney Spears, Iron Maiden, Billy Idol, Donny and Marie Osmond, and Justin Bieber; to name but a few. The fantastic thing about Vegas is its breadth of genres. Whether you enjoy rock and roll, 80s pop, or classic RnB, Vegas is the kind of place that can attract anybody, and everybody. Don't believe us? Where else are you likely to catch Guns N' Roses, Lionel Ritchie, Rihanna, The Who, Bryan Adams, and Duran Duran all within a relatively small radius? Just Vegas, that's where.
Of course Vegas isn't only home to the big names, but is also renowned for nurturing new talent. Panic! At the Disco, The Killers, and Ne-Yo all herald from Sin City, so it often pays to explore the smaller gigs going on away from the Strip; you never know who, or what, you'll discover. CHARACTERS, formerly New Generation Rising, were once heralded as the city's most successful group containing school-aged rockers, while The Dirty Hooks, an electric grit band formed in the city is well known on the circuit, and The All-Togethers gig frequently. Venues such as the Beauty Bar, Sand Dollar Lounge, Vinyl Las Vegas, and Vamp'd are fantastic for discovering new local music, so be sure to check them out.
The biggest entertainment venues in Vegas
So, what makes Las Vegas such a center for entertainment? Could it be the mass of neon lights that light up the sky, the array of amazing venues, or the city's propensity for having a good time? In fact, it's all of those things and more; Las Vegas has a certain something that few other destinations around the world can muster, including some truly breathtaking venues in which to witness the biggest names, and best music.
There are, of course, the big hotels and casinos, including the Bellagio, the Mirage, the Wynn and Encore, and Treasure Island, all currently owned, or at least conceived, by Steve Wynn of Wynn Resorts. His vision, drive and determination are often cited as being the forces behind Vegas's transformation from cheesy gambling town to the Entertainment Capital of the World, and his presence is felt almost everywhere you turn along the Strip. The Bellagio, for example, will be hosting pop sensation Selena Gomez in May, while the Mirage boasts RnB icons Boyz II Men, and the Encore Resort houses top lounge singer Michael Monge; each act has their own fanbase and draw, and you'd be mad to miss such shows if you're ever in town. Other famous Vegas venues include Caesar's Palace, which is hosting Mariah Carey and Celine Dion this year, the House of Blues, and the Bunkhouse Saloon. Can you discover any new favorites, though?
Whether you're heading to Vegas at some point this year anyway, or are looking for excuses to get out there and experience the Strip, few draws could be as big as the lure of fantastic music. Big bands, stunning soloists, and new local talent all await you in Sin City and, regardless of whether you're a fan of rock, pop, indie or blues, you're bound to find something to keep you up all night.