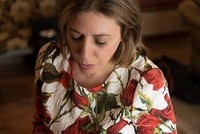 Elise Wiener is a multi-talented young lady. Starting her artistic journey with visual arts and making a living creating greeting cards. She had a way with words and shared her passions through her poetry as well, and now expanding her creativity yet again in this passionate tale, Country Song.
Audio:
https://soundcloud.com/elise-wiener/country-song
The tune is a beautiful sentiment about lifting our homeless veterans in praise, after all they did sacrifice their lives so we could all live in freedom and peace. Their fight was abroad and now they are fighting here as well, I love the message of this song. They should be honored not disregarded and forgotten. This is seen every day, soldiers freezing on the streets, needing shelter and medical attention. It is heart breaking and should be discussed more, awareness and education is vital to finding a solution.
This music thing is a new adventure for Ms. Wiener and I say she is off to a valiant start. The song is well written and beautifully executed. She seems a little green, but we all have to start somewhere and I applaud her efforts.
Listen to Elise Wiener's, Country Song, it is an anthem of praise for the men and woman who so courageously laid their life on the line for us all. I predict a bright future for Wiener and I encourage her to continue plugging away and feeding her creative whims, onward and upwards.
I rate this 3 out 5
http://elisesongs.com/
https://www.facebook.com/elisesongs
Rebecca Hosking – www.rebeccahosking.com – hoskingrebecca@gmail.com