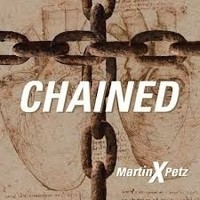 There has always existed a place for spirituality in popular music, but context is important. Few listen to music with the expectation of being browbeaten by dogma or assured of eternal damnation if they don't conform, and fewer still will stick around to listen once the righteous fusillade begins. Martin X. Petz understands this and, beyond that, embodies a faith in his songs that isn't about us versus them, but instead examines spiritual struggles from a deeply personal perspective. Petz never evangelizes on his album Chained. His ten fully original songs draw deeply from his faith for inspiration, but ultimately, this is an album very much in a singer/songwriter vein and imminently credible.
The title track opens the album and sets an immediate tone. This is bare bones and intimate as it gets – listeners are placed virtually face to face with nothing but Petz's plaintive vocals and acoustic guitar. Petz, fortunately, doesn't content himself with plunking out chords – "Chained" glistens with clearly defined melodies. The lyrical content deals with Petz's longing for wider spiritual fulfillment and how it chafes against his limitations as a flawed man. Stripping any religious connections away, any thinking adult should easily relate to this song. "They Say (You'll Know)" is a chiming, breezy pop rock song once again illustrating Petz's penchant for memorable and seemingly effortless crafted melodies. "It's Hard" covers familiar thematic ground and, while it maintains the same approachable sound of the preceding song, Petz's songwriting darkens his palette some with the track's much more deliberate pacing.
"Kinship" strips away the pop rock leanings and, instead, gives listeners a truly unique turn. The track plays like half ballad and the other half a religious torch song of some kind. The lyrics tackle an unusual subject for the typical pop song, but this is anything but that. Its most remarkable quality is Petz's voice, staying with each word, carefully phrasing his lyrics with such meaning that it draws you further in as the song unwinds. "The Way" is another song built around his acoustic guitar and blooming with gratitude and devotion to the path Petz has chosen in his life. Strong melodies are one of Chained's best musical qualities and help elevate this track. "This Love" is another earnest devotional hurrying by in low-fi mode. Petz relies on his guitar playing to carry the chords and, as a result, his typically rich melodies seem diffuse.
Chained's last song, "Jesus Can You Hear Us", highlights Petz's empathy a final time and serves as a highly appropriate bookend with the opening song. It encapsulates, lyrically and musically, Petz's finest skills and ends the album on a resoundingly positive note. It's refreshing to hear such a deceptively simple songwriter make religion palpable even to non-believers. The musical and lyrical qualities are another key reason for the album's success. While it might be unlikely that mainstream doors will soon open for Petz, there's little doubt that other glories await him.
4/5 Stars
REVERBNATION: https://www.reverbnation.com/martinxpetz
Jason Hillenburg