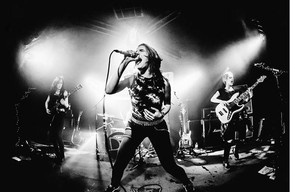 The ladies of Doll Skin have been winning praise from critics, fans and fellow musicians in the months following the fall release of their debut EP In Your Face.
Doll Skin kicked 2016 off by premiering the lyric video for their new single "Wring Me Out" on Vevo. This lyric video perfectly captures the energy that the band is quickly becoming well-known for.
The action continues later this week, as Doll Skin will take the stage in support of the supergroup Metal Allegiance for a few West Coast dates.
http://www.vevo.com/watch/doll-skin/Wring-Me-Out-%28Lyric-Video%29/USME31600068
Credit: Ray 2 Photography