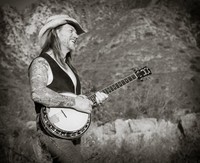 Ray William Roldan has a new single out called, Cowboy Cadillac. I am a big fan of this gentleman, fun hillbilly country that rocks your socks off. He is back and does not disappoint.
This guy knows how to grab your attention and how to keep you locked in to the very end. It starts with some screaming guitars and top notch production. He holds nothing back and gives his blood, sweat and tears to make sure you are satisfied to the point of exhaustion. This song is no different from what we have grown to love, its clever and driving and makes it impossible to stay in your seat.
Audio:
https://www.reverbnation.com/raywilliamroldanswingsamurai/song/1101048-cowboy-caddilac
The words flow with a rhythmic veracity you can't help but laugh because the true ones are always the funniest. His comedic personality shines, once again. He nails an incredible flow and gets you so engaged you feel like you're watching a 3 minute movie. There are countless clever one liners; another coming as soon as the one before it ends. This song is reminiscent of the Georgia Satellites with Ray's special touch.
I have never heard anything I did not like from this guy. If you're looking for some fun and smiles look no further. Ray William Roldan's latest single, Cowboy Cadillac is a cut above the rest, a must add to an excellent collection.
http://www.raywilliamroldan.com
https://www.facebook.com/Ray-William-Roldan-SingerSongwriter-195092220584834/
I rate this 5 out of 5
Rebecca Hosking – hoskingrebecca@gmail.com – www.rebeccahosking.com